[ What's News]
> Update 20/03/15
> Bourges 2015 - judge Mme Stanway (UK) *Good One Cyril des Terres d'Armor EXC 2 - Open class
> Niort 2015 - judge Mme Marcillaud (F) *Jodel's Flasharry EXC 2 RCACS RCACIB - Open class
> Bordeaux 2015 - judge Martin Grimwood (UK) *Good One Cyril des Terres d'Armor EXC 4/ 17 in Open class
>Stakstons Bumblebee is ED 0/0 & HD A/A , his sister Stakstons Elita One is 0/1 & HD B/B ! (both are living in DK and are Tj - CH.Dalakhani des Terres d'Armor- son and daugther)
>EMSBTC 2014 - judge Mark Davies ( Sebsonic)*Congrats to Jazz de Power Breton 1st Minor Puppy & 2 nd Puppy classes Crufts Qualified 2015! Jazz is Daïgo's son- Good One Cyril des Terres d'Armor. Jazz got another successful show after winning 1st in puppy and " Best Hope " at the National Champ Show in France under Wynny Southworth judgments. Congrats to his owners and his breeder !
Jzarkava des Terres d'Armor - 7 mois
Jazz de Power Breton - 1st Junior Dog Crufts 2015 (fils de Good One Cyril des Terres d'Armor x Petit fils de notre regretté Tytan des Gardiens de l'Ame Celte)
Jodel's Flasharry - RCACS RCACIB Niort 2015
Jalikova des Terres d'Armor - 6 months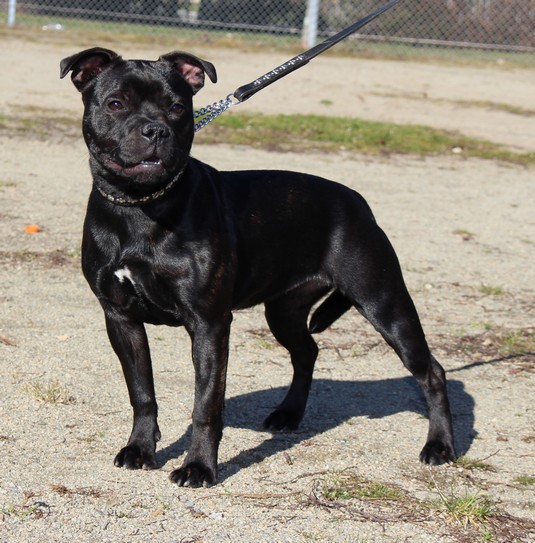 [ Kennel ]
My name is Amélie Chaine. I have owned Staffordshire Bull Terrier since 2000, i have my affix registred in 2002 and began breeding in 2006 under the kennel name" Des Terres d'Armor". My affix came from the region where we live - south Brittany - also named " Armorique " . "Terres " means " Lands" > Terres d'Armor
Our dogs are first and foremost, beloved and loyal everyday companions. They are not "zoo animals" who spend 23h30 a day in a kennel away from the house.
Only a restricted number of dogs allows a true "family life" for the dogs. Much in the same way, only a limited "production" ensures that the birth of a new litter remains a magical moment and joyful time of the year.
The puppies are born inside the house, in one of our living rooms, where we spend most of our time when we are at home. They stay there until they are 6 or 7 weeks of age (usually at that age they figure out how to come out of the whelping box, and they are getting very rowdy). For as long as they are inside the house, the pups are therefore submitted to every possible noise and situation : phones ringing, kitchen appliances running, loud TV and stereo, loud computer games, and of course the everyday hustle-and-bustle of us and our dogs walking in and out of the room, slamming doors, turning lights on and off, etc. Several times a day, they are taken out of the box by turn, and spend some time around the house with us and our adult dogs. Special time is devoted to petting and handling.
Our experience has shown us that this lifestyle from birth to 6 or 7 weeks, ensures pups with very good nerves, who fear nothing and feel "at home" wherever they go. This is very important in their future life. Until they leave our kennel, the puppies spend much time every day with their mom, just like Nature intended.
Every year, we travel thousands of kilometers, in order to learn always more about Staffords and those bloodlines prone to bettering the breed according to the breed standard, on the one hand, and according to our conception of the Staffords within that standard, on the other.
We have come to our own conclusion that successful breeding means producing dogs who are better than their parents
Amélie Chaine "Des Terres d'Armor"